Descripción
¡Es rápido, es poderoso y no vas a querer dejar de volarlo!
El Meteor65 es un multirrotor de tipo tiny whoop. Tiene 65mm de diámetro entre motores (de ahí su inventivo nombre), viniendo con un tamaño similar al del Cetus FPV Kit, pero se diferencia de este en sus motores, que en este caso son de tipo Brushless. Estos son mucho más duraderos y poderosos que los brushed. Con estos motores, el Meteor65 se presenta como una buena opción para empezar a practicar movimientos más acrobáticos en el marco de un espacio controlado.
EN EL PAQUETE:
Descripción original:
Meteor65, a leading 1S whoop drone, best for indoors especially during winter time. It's equipped with the BT2.0 connector, lightest F4 1S FC and 0802SE 19500KV motors. With the stronger and powerful dynamical system, you'll immediately notice how fantastic the 22.84g Meteor racer is at takeoff. It feels amazing as you hover around indoors, then let it rip and haul around the house!
What's more, Meteor65 comes back on 30th March as a kit, it is with abundant accessories of 2 lipo batteries, a BT2.0 charger & tester, extra 1 set of props, 1 screwdriver and a portable bag. It is easy to use and at a reasonable price! Also, the camera angle has been adjusted to 30°, which brings you a greater flying experience!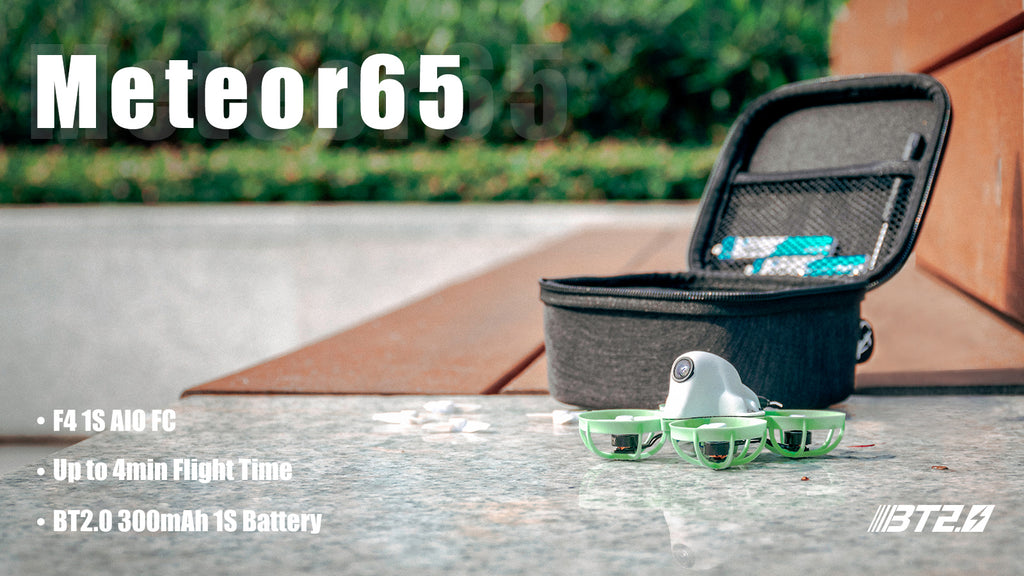 The performance of a 65mm 1S brushless drone has gone up a new level this winter. What is your exception for this drone? Aggressive power and faster speed, or longer flying time? Here is the comparison of different motors.
| | | | |
| --- | --- | --- | --- |
| | 0802-22000KV | 0802-19500KV 0603-19000KV | 0603-16000KV |
| Flying Time | 1:30-2:00min | 3:30-4:00min | 4:10min |
| Speed & Power | Ultra Insane | Insane | Insane |

Thanks for the feedback and advice from Nate Payne and Michael Huddleson. Right now you could choose these spare motors like 0802SE 19500KV Motor or 0603 Motors 19000KV / 16000KV to experience the different flying of our Meteor65.
Video for Meteor65
Bullet Point
Specification
BT2.0 Connector
BETAFPV exclusive designed BT2.0 connector has broken through the bottle-neck of PH2.0 connector. BT2.0 connector has decreased internal resistance of connector effectively allowing more current to be transferred, which means it supports 9A continuous current (15A burst). This means stronger power and longer flight time on 1S brushless drones while PH2.0 just supports 4.5A. You can enjoy more flight time without disturb of low voltage warning due to reducing voltage sag. For more instruction, click here.
See the graph below of comparing the BT2.0 connector and PH2.0 connector (solid pin version) in BETAFPV 1S 300mAh battery. The discharge current is 9A in this test. The BT2.0 has double the time (about 2 minutes) and a 0.2v improvement in voltage sag.
Not sure if it's worth to switch BT2.0? Check more from Joshua Bardwell'video- Proof that BT2.0 connector is better than PH 2.0
Meanwhile, we provide 200 sets of BT2.0 300mah 1S battery(2pcs) as a free gift for everybody. Click here to grab BT2.0 battery / connector.
Much more choices of BT2.0 series accessories.
We know some of pilots might have a question about how to deal with the old PH2.0 1S battery. So we provide some accessories like BT2.0 connectors for those people who want to convert the PH2.0 connector to BT2.0 connector.
Flight Controller
F4 1S AIO FC(SPI Rx) integrates 4 components as F411 FC, 5A ESC, 25mW VTX and SPI receiver. It is ultralight only 3.92g and still maintains an amazing performance capability, which makes it become your best choice to run with a 1S brushless quad!
F4 1S AIO FC(No Rx) integrates 3 components as F411 FC, 5A ESC and 25mW VTX. It supports external receivers like TBS Crossfire, Frsky XM+ and Spectrum DSMX etc.
In this quad, the Frsky & Futaba Version is equipped with F4 1S AIO FC(SPI Rx), and the TBS & PNP Version is equipped with F4 1S AIO FC(No Rx) with an external Receiver.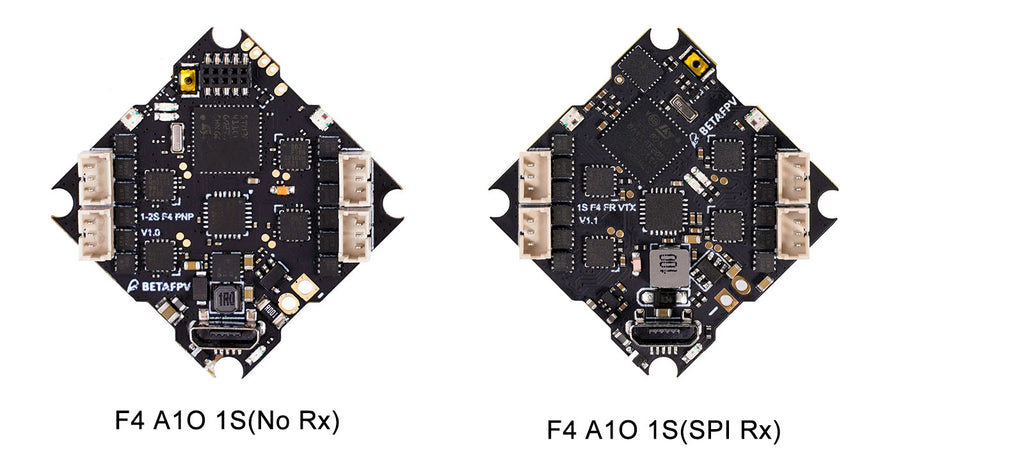 C02 Camera
C02 Camera is the lightweight camera customized for the weight-sensitive micro whoop drones, perfectly fits the Meteor65. Adapted a 1/4'' CMOS sensor, 2.1mm lens for 1200TVL resolution and excellent latency while minimizing the weight to 1.4g. Packed with the micro canopy, protect your camera well in a hard crash.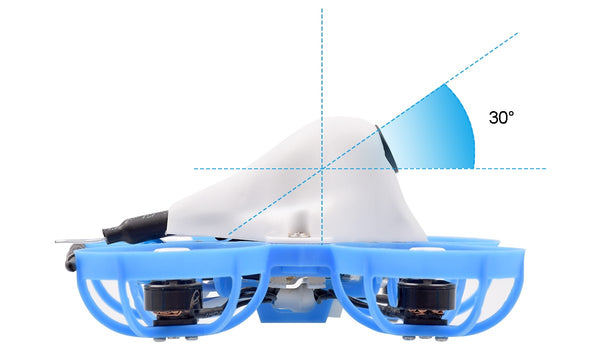 Motors
0802SE 19500KV Motor is a lightweight 1S motor, compared with the 0802 series brushless motors, it is not only significantly reduced the weight which is only 1.83g/pc but also ensuring the awesome performance of power and thrust. Lead wire soldered to the PCB, which allows you to repair it easier once it disconnected.
And the Racing version of Meteor65 is using the 0802 22000KV motors, which uses a ball bearing instead of brass bushings, and PCB connector. More durable and easier to repair once disconnected.
Frame
The lightest lower profile 65mm frame- Meteor65 frame is reduced 0.75g
to 3.14g only. The battery slot is closer to the center of gravity for a
smoother flying experience, and you will land on the motor screws instead of the battery. There are more options for colorful frames such as Beta-blue, mint-green, sakura-pink, mango-orange, etc.
FAQ
1. Cli Dump of Meteor65 Whoop Quadcopter(Click here to find the details).
Package
1 * Meteor65 Brushless Whoop Quadcopter (1S)

2 * 300mAh 1S 30C Battery with BT2.0 connector

1 * BT2.0 Battery Charger and Voltage Tester

1 * TypeC USB cable

1 *

Customized Carry Case

1 * Spare 31mm 3-blade props (1.0mm Shaft)

1 * S

crewdriver